A while back when at the preview for the Mothercare Spring/Summer 2015 preview I got talking to Stelle Audio who have a new product for sale with MC. They gave me one of their Go-Go Speakers to try for size and now I am able to report back on it.
We've always taken mini speakers away with us, even way back when I was a teenager. I remember having a small set that cost just £4.99 from Boots in the airport when on the way to somewhere hot and tropical. I just wanted to listen to music when I was getting ready or sitting about in the apartment and a cheap set that plugged into my Walkman (remember those) was about as good as it got. They were rubbish, of course, they would be for that price but then anything that was affordable WAS a bit poor quality and not wanting to spend a fortune it seemed silly to part with any more cash than absolutely necessary.
I think that set actually lasted a couple of holidays before the already crackling and slightly muffled sound wore out completely. I probably had a few sets of speakers of a similar nature and then time moved on and the age of the iPod appeared. This new gadget changed everything when it came to music on the go and I remember lying on the beach listening to my cousin's and just thinking WOW. Not long after that I got my first one. No longer having to carry around bulky cassettes it seemed barmy then that instead of small speakers for holidays to compliment my new iPod, we had bought an iPod docking speaker which was huge! I mean it was smaller than a ghetto blaster but really and truly, I can't see why I was so impressed with it when it took up so much room in my suitcase. I'd bought a non-specific brand, a copy of a Bose which wasn't half the quality but looked a little similar and of course, at the time, it did the job.
If someone had shown me back in those days what sort of thing I would have in the future, to do the same job (and more), for not a horrific amount of money while being smaller than just one of the original Walkman speakers (which of course had two, one for each side) and with a sound quality that was actually better than the stereo in my own home I'd have probably not believed them; but here I am in 2015 with just the very thing in the Go-Go Speaker by Stelle Audio.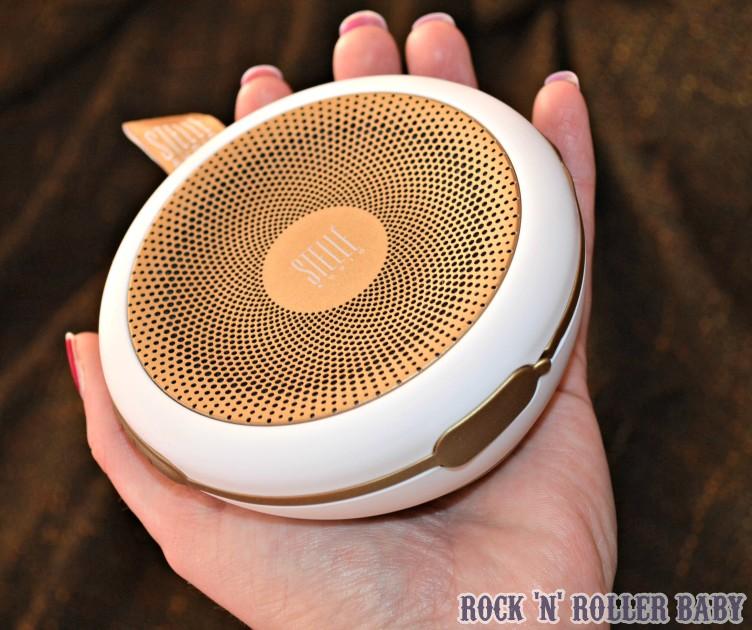 Stelle Audio make all sorts of unusual speakers for on the go including ones inside handbags (I kid you not) and the Go-Go Speaker is designed for busy parents on the go wanting to stream music either from their iPod or phones. It connects to Bluetooth and is compatible with my iPad too. I can get music, any music I like, playing wherever I am at any given point. It's pretty awesome, so awesome in fact that we've just been using it INSIDE the house where we actually have a proper audio system because, really and truly it's handier than getting up and the sound is absolutely amazing! I know technology has moved on dramatically since my first ever set of mini speakers but still… It's pretty startling that the sound is THIS good!
It comes with a strap to hang it up wherever you are or even attach it to the buggy while you're on the move and with a 35 foot range it's pretty great for having in the garden too. It was very easy to set up with voice commands which tell you exactly what to do, I didn't even need to read the instruction booklet. It's re-chargeable, small and with fabulous sound quality like I mentioned (it's definitely worth mentioning again). You can even use it as a microphone to make phone calls on any Bluetooth phone. The best bit is that it connects to all sorts of devices including iPads, tablets and smartphones – not JUST Apple products either which is something that irritates me often. It is the size of my hand, weighs 0.6lbs and comes with a 2 year guarantee. It really is a massive cut above other portable speakers that I've seen and so tiny while being really interesting to hold and look at. I'm not massively into techy things and rarely get excited by them but this is an exception and will be coming with us on all our travels. For £99.95 it's worth every penny. What a fabulous idea that has translated perfectly in production. I'm so glad I got talking to the Stella Audio guys at the Mothercare press day otherwise it might have completely slipped my radar and I think it's absolutely terrific – truth be told I want one of their glitzy hand bags now too!
I was sent the Go-Go Speaker by Stelle Audio for the purpose of an honest review.