It's not every day you'll see a theatre experience a full house standing ovation,. I'm talking every single bottom from every single seat and with the audience in tremendous raptures! However, last night's performance at Norwich Theatre Royal, opening night for the Norfolk leg of the national Blood Brothers tour, saw just that! I saw just that. I was part of just that. And I left the theatre smiling from ear to ear as I and the rest of the evening's audience spilled out into the street ready to go home but still talking about what a wonderful evening it had been.
I've seen Blood Brothers before; having played for 24 years, the third longest running West End musical, it's no wonder. Even my husband, a fair weather theatre goer, and it was his third time but then this is a show you could simply never get bored of. Funnily enough, last night, in lovely little Norwich, it was the most enjoyable version I have seen – it certainly had the best cast – this is truly saying something as I've seen a great cast perform this show before. I will never tire of the music or wonderful story, I have the CD in my car and even my children love to sing-a-long. 'Can we have the Marilyn Monroe song?' they frequently ask and they were most put out that they couldn't accompany us to the theatre last night. I'm not entirely sure the story genre is appropriate for 7 and 5 year olds but I'm inclined to feel for them on the song front – they missed out. For me, despite knowing it was going to be great because it always is, I didn't realise just how special this performance would be.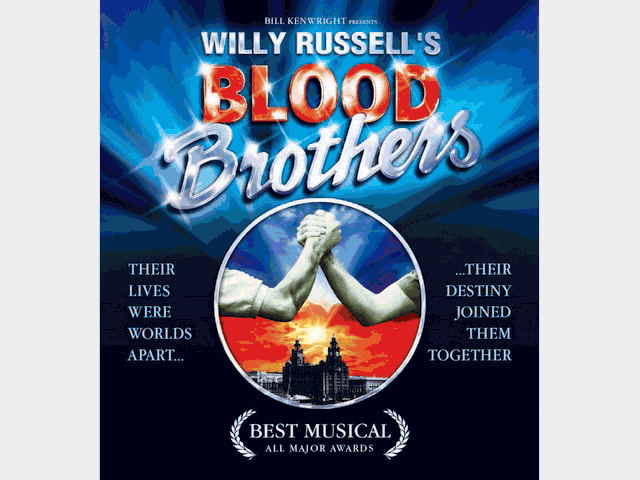 Lyn Paul, who has moved on from teaching the world to sing as part of the 'New Seekers', was stunning with her effortless singing. I couldn't even detect that she was putting any effort or welly behind her magnificent voice at all yet there it was in all its glory and despite being a woman of a certain age it certainly didn't lack for her years. The entire cast played beautifully with only one ensemble member sticking out slightly as perhaps not QUITE as slick as the rest, she was young and with little experience next to her co-stars and to be honest it didn't detract and may have gone unnoticed with less established players in her midst. Literally the entire rest of the company were movie cut perfection. Most notable Sean Jones as Mickey and Alison Crawford (who swung in in her role as Linda) have to be mentioned. I actually feel a little sad that Alison Crawford isn't usually playing this part as I don't think there could be anyone more suited. She played a 7 year old, 14 year old AND a grown woman with no blinking on my part watching. I was stunned.
The story is not one that on paper should make you laugh. Terribly depressing in fact when one relays the story board yet somehow we did laugh. And we cried. It's a tough tale with moments to make you gasp but there are scenes which are so wonderfully crafted for laughter that you won't feel bogged down by the ending.
Shocking and striking and still today JUST as wonderfully entertaining as it always has been. Willy Russell at his best I feel – if you know his work you will know… Set in his native Liverpool this dramatic story of two brothers, 'twinnies', separated at birth by a Mother who can't afford to keep both, giving one up to her rich employer, is the beginning of a journey which will ultimately end in bad fate but the journey is one to be seen. Please see www.willyrussell.com for more information on the author, this show and his other projects.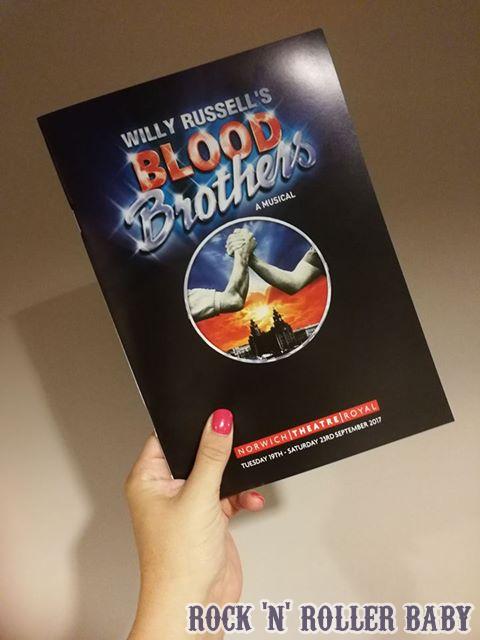 I didn't see any empty seats which is a sign that others think just as me and that also, if you want to catch this show in Norwich then you'll have to be savvy and book immediately. Advanced forward planning may be out of the window for this stop on the tour but if you're not lucky enough to see it in Norwich this week then check out the National tour dates. You should want to see this show, you definitely need to see this show!
Please do take a little look at the trailer for the show below.
It's so good to see local theatre competing with London's West and off West End, I can't wait for more of the same in a fortnight when another of my favourite musicals will be coming to the Theatre Royal Norwich, Beautiful. The Carole King musical epic is going to be something else here in Norwich, I just feel it already.
Blood Brothers is playing in Norwich from 19th September 2017 – 23rd September 2017. With performances daily at 7.30pm and matinees on Wednesday, Thursday and Saturday at 2.30pm. Tickets are on sale at the Theatre Royal box office but are limited for every performance – if you want to see this show in Norwich then get booking and get booking fast!
Disclosure: I was invited to see the show as a guest reviewer for the Theatre Royal Norwich.