I'm not generally very eager to bring messy play into the house knowing that I'd have to clear it up and it might get on the carpet! I usually save it for in the garden at my Mum's or because we have excellent Surestart centres near us, that have activities daily, it always seems easier to let Florence and Jimmy get REALLY messy there rather than at home. I know how lazy that is of me so things are about to change!
My friend Jennie who writes the Edspire blog has started a linky for us Mummy bloggers to come together and share our messy play posts – read about it here. The posts are dedicated to the memory of Jennie's little girl Matilda Mae and are going to be known as Messy Play For Matilda Mae. It's such a perfect idea as I read all of Jennie's messy play posts with awe – they're amazing! She has some fabulous ideas and does so many wonderful things with her little ones and their tuff spot. I have read about so many Mum's being inspired with her posts lately. One of my friends who helps run a local play group to me was so inspired that she dug out the play group tuff spot (she had previously thought about throwing it away, not knowing what it was) and created a messy Easter play table for her group goers which went down a storm!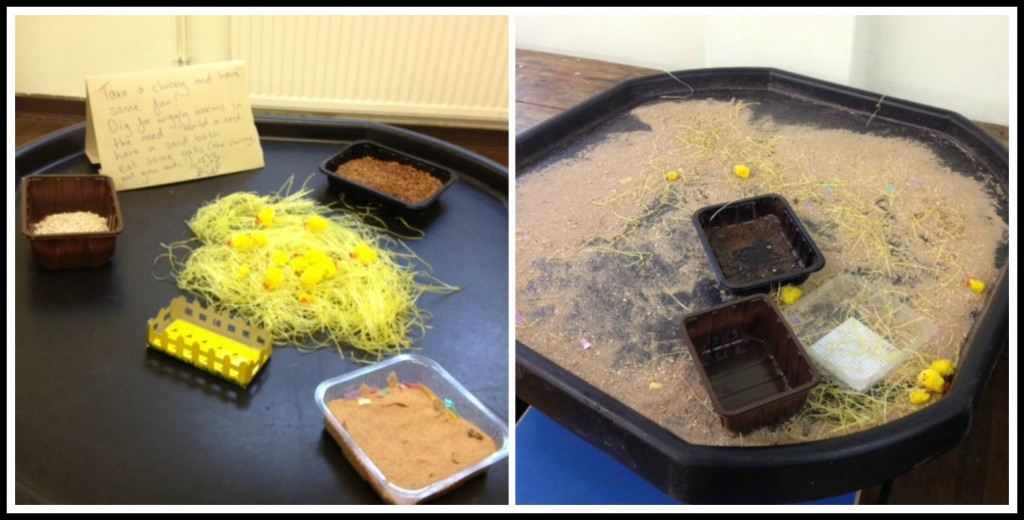 Before and after! The Easter orientated messy play in the tuff spot at my friend's play group. She was inspired by one of Jennie's posts to do something similar!
And now I am inspired too, but what about the clearing up and my carpet?? More advice from Jennie there! I read some she gave to someone else actually and will be using it at mine for now too! We shall be conducting our messy play in the bath! What a great idea, we can wear our swimming costumes and then scoop out any excess before running the water and washing it away and cleaning ourselves up with it. If it goes well… Well, I may just have to buy a tuff spot too and use it on top of the meal time oil cloth (I'll have to try not to wince too much if messy play escapes to the carpet)!! Watch this space!
I definitely can't promise anything near as exciting as Jennie offers and I'm looking forward to a few weeks time when she will be having a particular theme; I always worry people will laugh at my ideas so it would be nice to have a guideline… Here's my first post – please don't laugh, it's a project in progress!
I decided as it's still the Easter holidays we would use nests and birds and eggs for our theme and my first foray for Messy Play for Matilda Mae is called Bird's Nest Soup!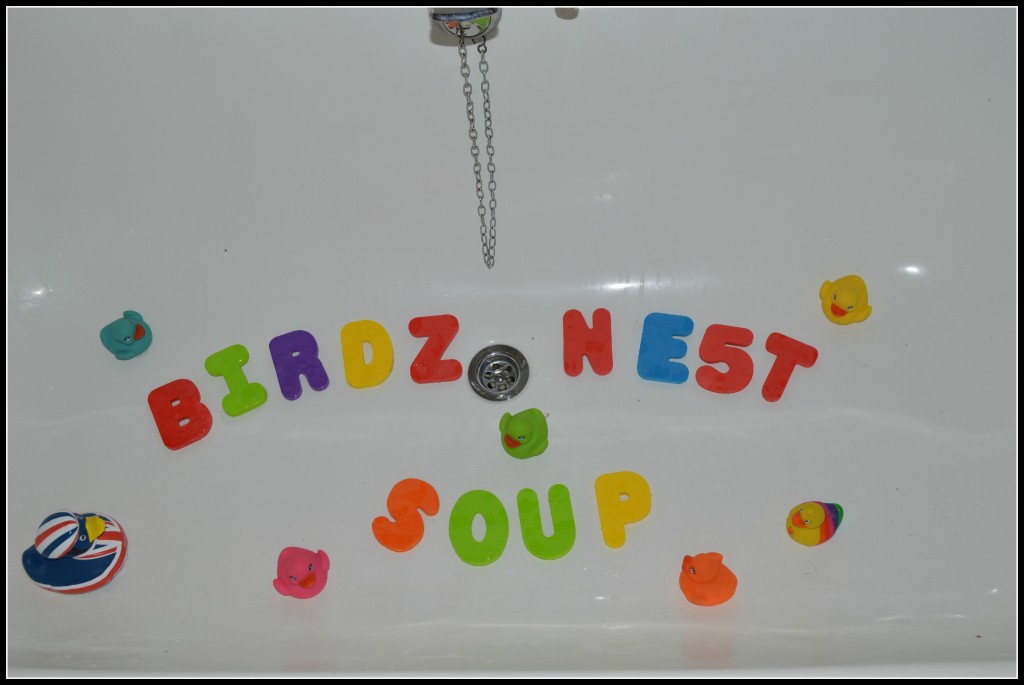 Getting ready for our messy bird's nest soup!
I cooked some linguine and giant pasta shells and got the rest of the 'ingredients' ready…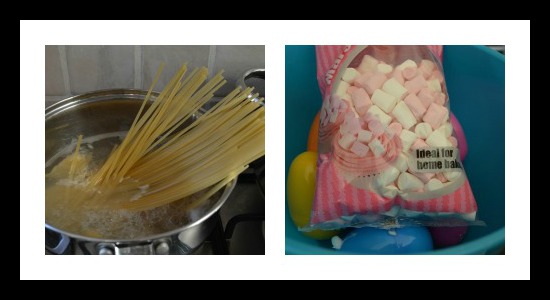 Preparation!
Next I filled some fillable Easter eggs, half of them with a children's moisturising mousse and the other half with oats.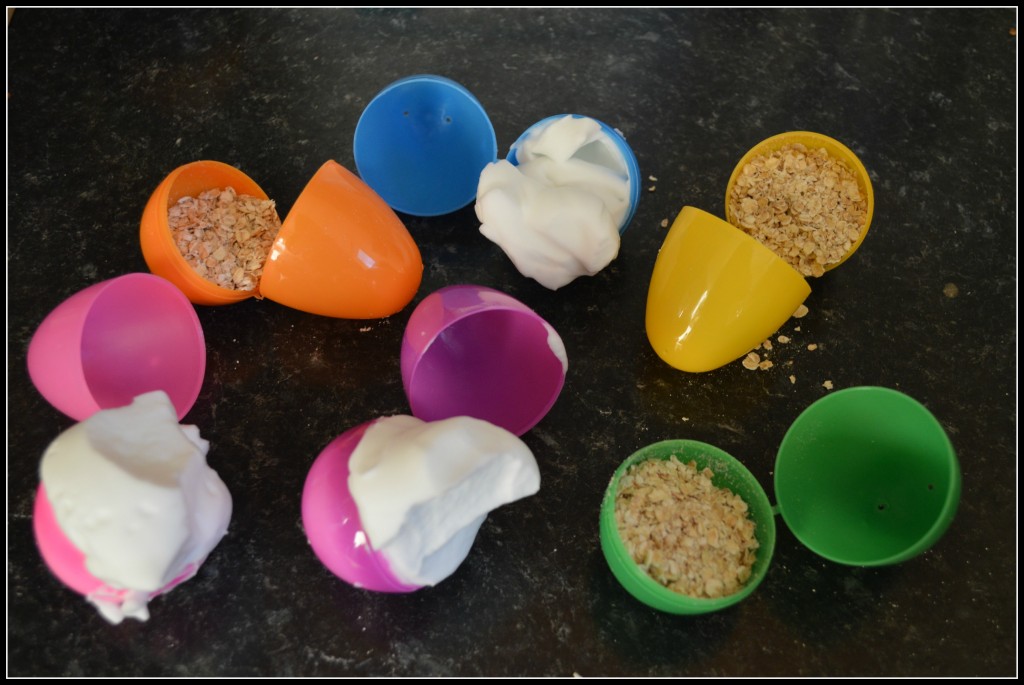 Florence helped to put the oats into the eggs which she liked!
I then put the eggs in a bowl and covered them with the cooked pasta, some dry un cooked pasta of the same shapes and sprinkled some mini marsh mallows on top.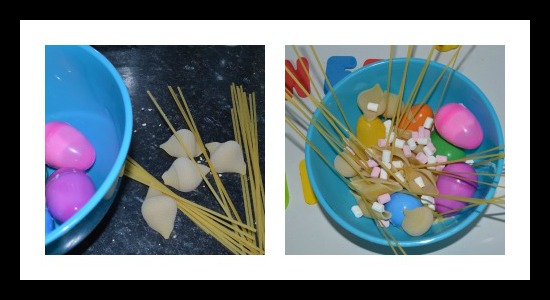 Nearly ready to go!
I wanted to make everything safe to be consumed because Jimmy puts absolutely everything in his mouth. Just before I wrote this he had his first taste of cat meat – yum!! (Wonder if the cat would mind eating on stilts in future?)
Then our nest was ready for some birds to sit on top so as we are using the bath I thought our rubber duckies would be good nesters for our first game! We also left the foam letters I used to write the name of the post in the bath for extra playing material.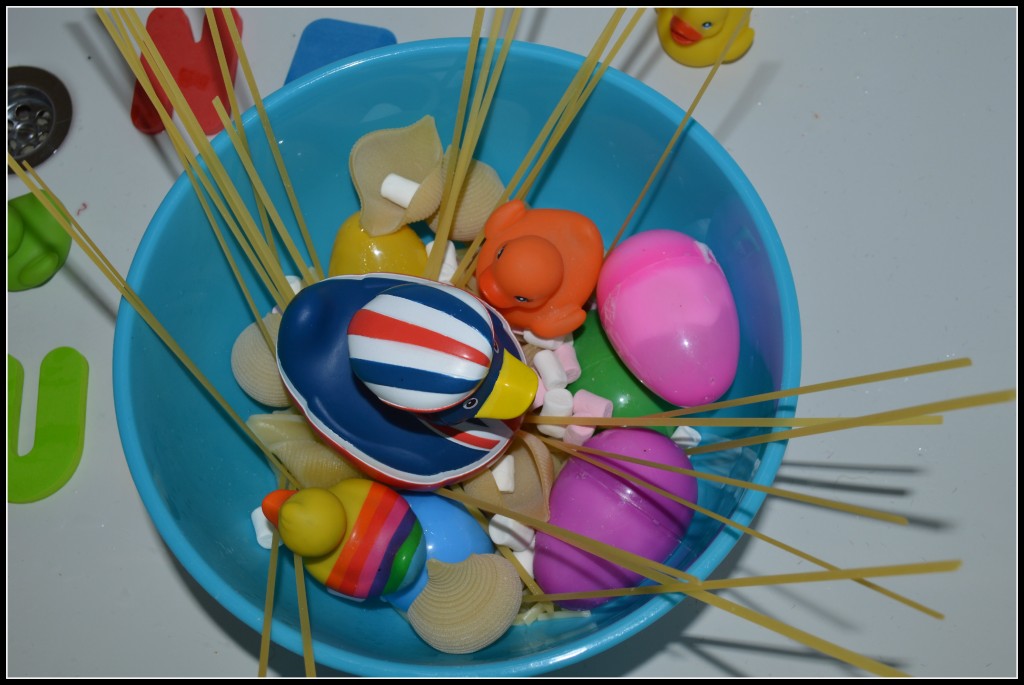 We added the birds to their nest!
Then it was time to get the duo into their swimming costumes and see what they made of messy play in the bath!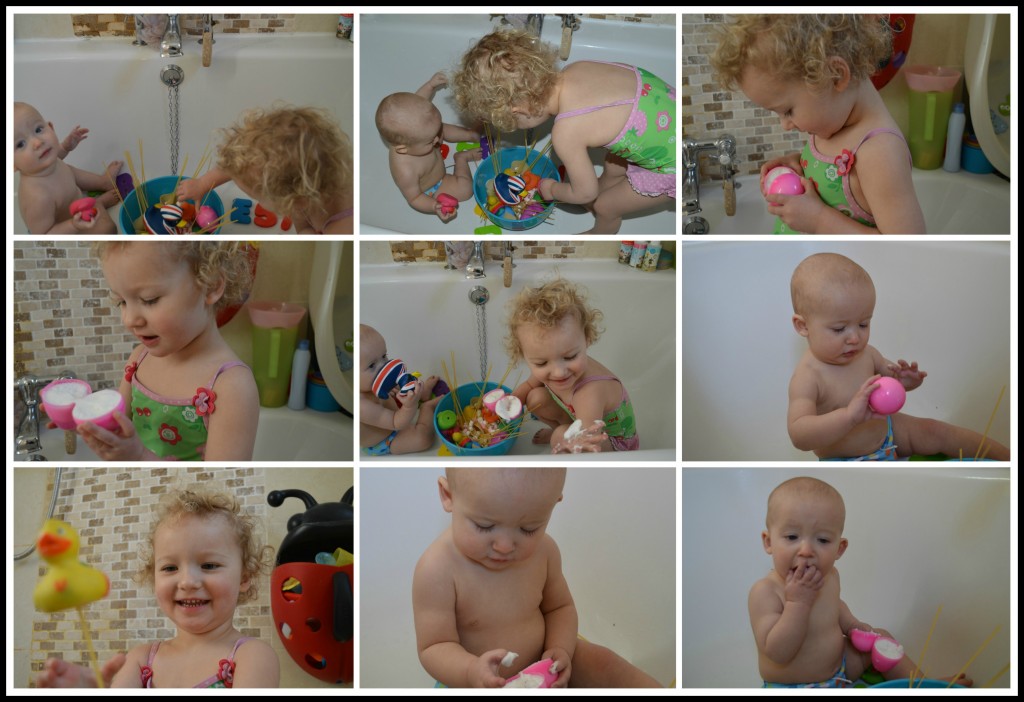 They were a bit bemused at first but soon got into the swing of it!
I'm usually telling Florence not to make a mess so she was a bit confused to begin with but soon understood it was ok to make as much mess as she liked! They both really enjoyed delving into the bowl/nest to find the eggs at the bottom and Florence took great delight in depositing the oats and mousse moisturiser into the tub! She really liked spearing the ducks with the dried linguini and Jimmy squelched and had fun and ate a little bit!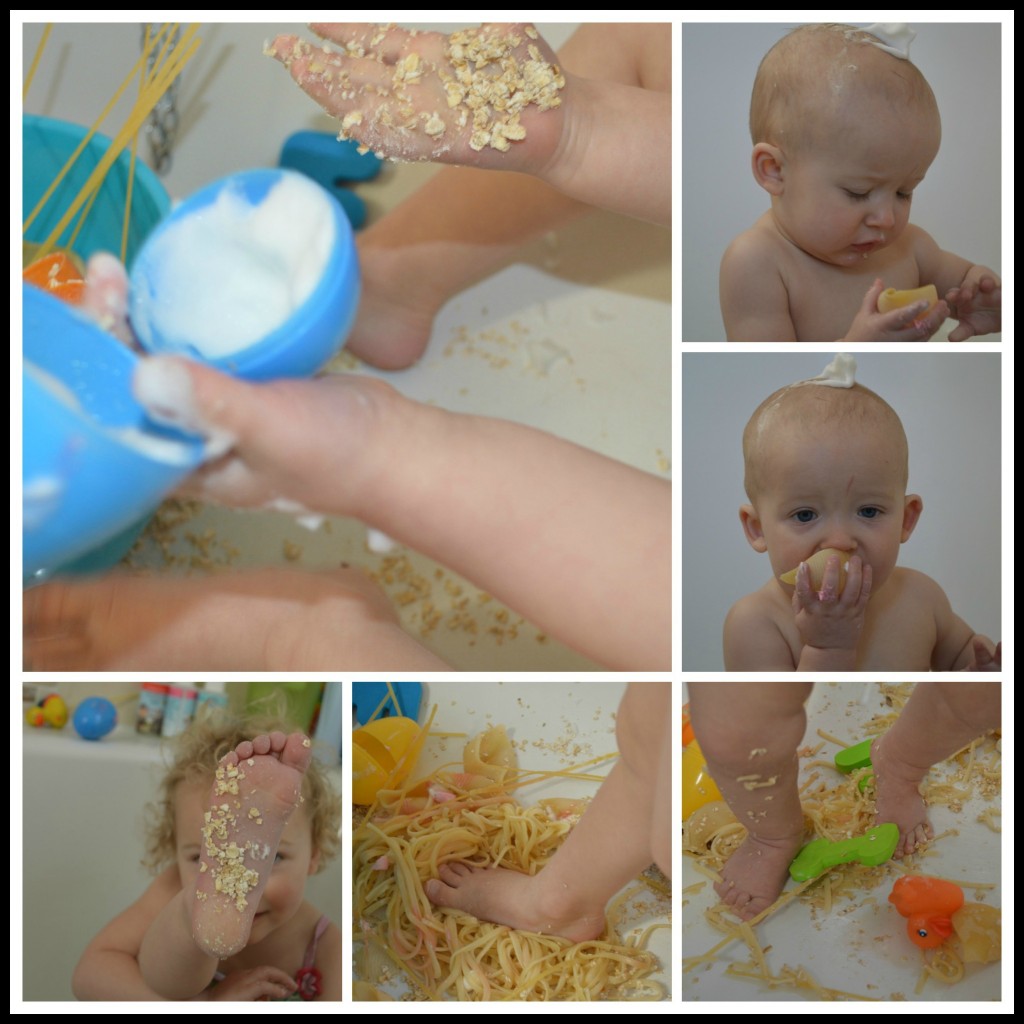 Soon the mixture was spread out!
I asked Florence what she liked about the feel of it on her hands and feet and she said it felt squelchy, soft and cold. She spent some time snapping the crunchy uncooked pasta so I'm pleased I used both for different textures. Jimmy squeezed the pasta, chucked it about and ate a little bit…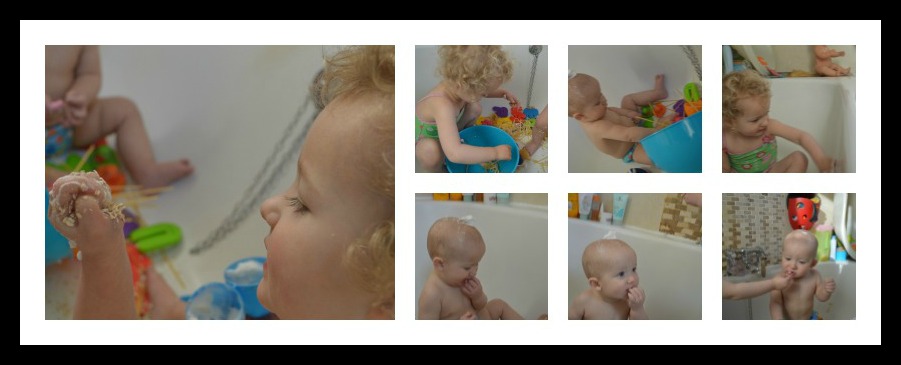 The games changed a little bit!
When the discovering what was in the nest and then the eggs excitement was over their games changed a little. First Florence started to use the mousse to pretend to clean the bath and then she used the pasta for pretending to cook! She asked me for a spoon so as this was our 'Bird's Nest Soup' I gave her a ladle and she was very happy with that. Jimmy discovered the marsh mallows and then his games mainly consisted of searching around for the others – he ate more than a little bit!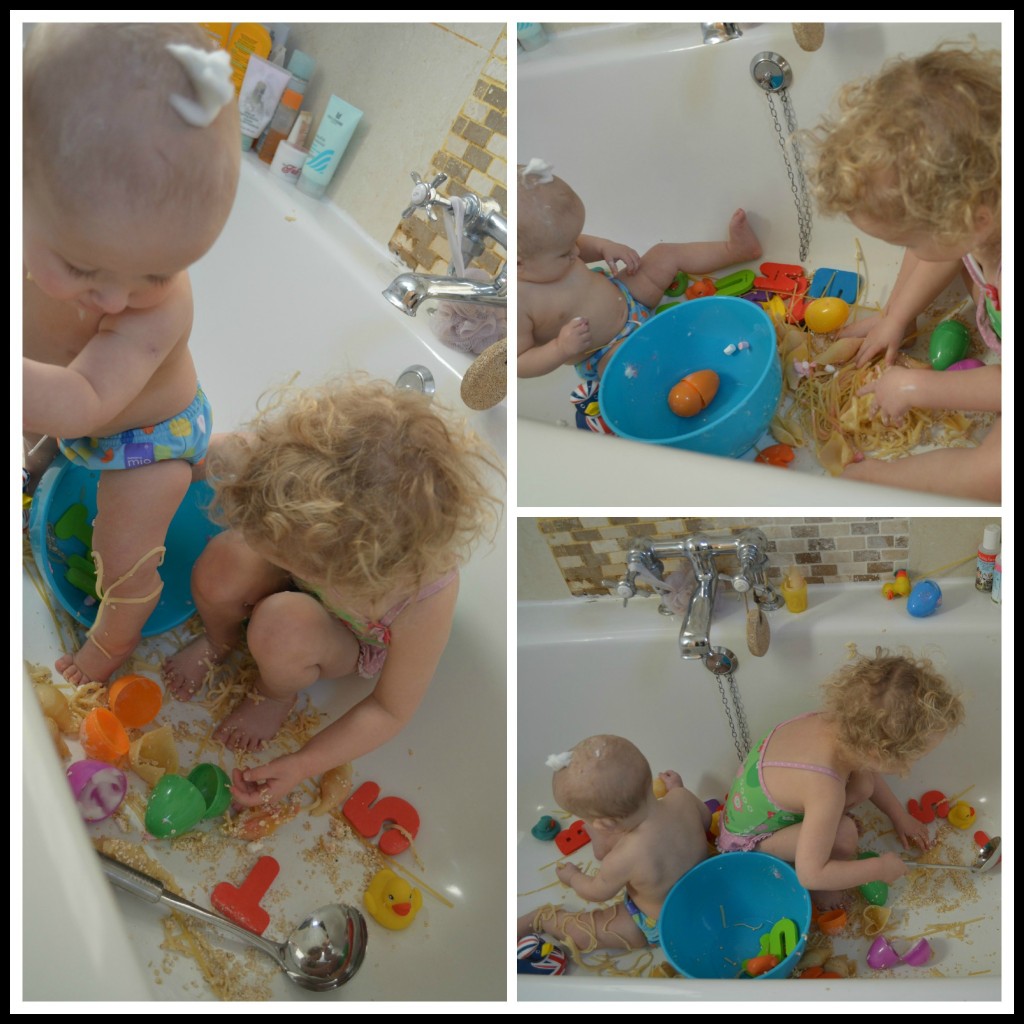 They both loved it and then it was time to tidy up!
Tidying up was really easy, I scooped up all the mess minus the toys into the bowl and deposited it in the bin, then I ran the tap on warm (with them still in the bath) to rinse the toys and every so often scooped up the excess oats and pasta that was left from the plug hole. When the toys were clean and there were no more stray oats, I ran a little bath for Jimmy to sit in while Florence and I showered over him. Messy play for an hour, cleaned up, washed and dressed all before 9.30! Result!
Florence said next time she wants me to base the messy play idea on bowling??!! I'll have to have a think about that one…